If you're a writer, chances are you have a drawer that contains material you've written – material that you like – that's never seen the light of day.  If you're a professional writer, you may have written a TV pilot or a screenplay that was never optioned.  Or one that was optioned but never shot.  Professional writer or not, you may have a stage play that's never been produced.
Maybe you've written essays, short stories, or even an entire novel that's just sitting in your drawer. Whatever it is, it's an idea that you cared about enough to spend your creative energy writing it.  Well, I believe that all ideas are gifts from the muse and if those gifts aren't used, new gifts may never arrive.  So, to honor the muse,
I'm opening my writer's drawer and making everything in it available for download for free.  I'm including my novels which are already on Amazon.  So, if you've ever read one of my novels, or if you've enjoyed my writing on any of the hit shows I've worked on, look around and grab something for free from my writer's drawer.  Enjoy.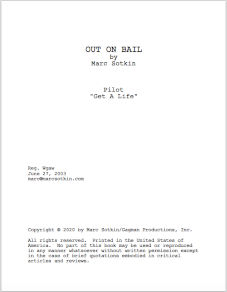 Out On Bail
While attending my nephew's wedding, I met a bail bondsman from L.A. I got to spend some time with him and was fascinated by this world. Bondsmen, cops, perps, they all work together in an upside down system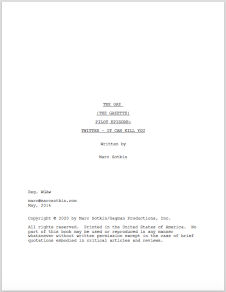 The Gaz – Newspaper Pilot
In 2013, when the newspaper business was going to hell, I pitched this idea to a company that owned a number of papers. The idea was that I would do a sit-com that would be presented in five-minute episodes each weekday. By the end of the week the viewer would see the whole episode. This would be the new comics – with ads – and a new revenue stream for a dying industry. They loved the idea but never came up with the money to produce it. It was Quibi before it's time.
The Gaz
The Frolic Room Hour Long
I liked the characters and arena of The Gaz so much I wrote it as an hour long.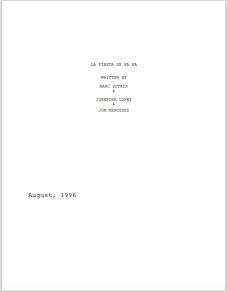 La Fiesta De Ha Ha
La Fiesta was a pilot written for UPN. I wrote it with Josefina Lopez (Real Women Have Curves) and Jon Mercedes. It was to be a combination of the Muppet Show with people and Laugh In.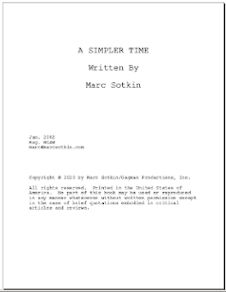 A Simpler Time
Before I wrote Kinda Dirty Paris Confessions as a novel, I wrote it as a screenplay – A Simpler Time.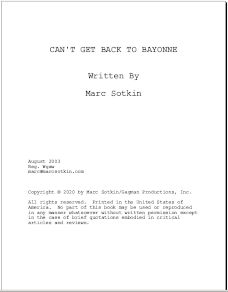 Can't Get Back To Bayonne
This is the story of a family lost in virtual reality.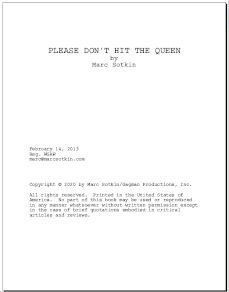 Please Don't Hit The Queen
A friend introduced me to his world of Vegas card counters.  Unfortunately, Kevin Spacey's movie, 21, came out just as this was about to be shopped.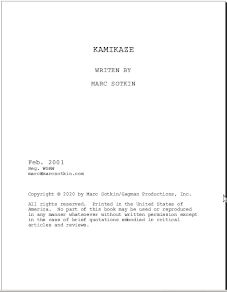 Kamikaze
This is the story of a reluctant kamikaze pilot who chooses not to complete his suicide mission.  Instead he lands in central California and becomes a crop duster during the war.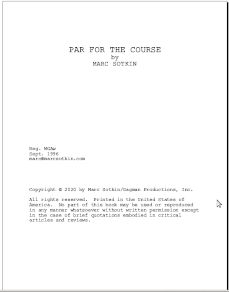 Par For The Course
A couple's mid-life marriage crisis is played on the senior's golf tour (now the champions tour.)  This was one of the last things Brandon Tartikoff bought while at NBC.  By the time I finished it, he had left and they were no longer making movies of the week.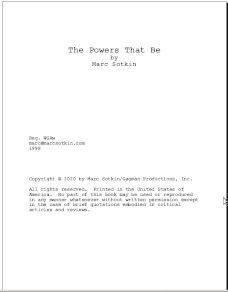 The Powers That Be
You never know where ideas will come from. In 1979 a friend introduced me to Jack, a guy who  wanted to get into show business. Jack told me about a witch doctor who was on staff at a hospital in L.A. I went and met the man whose office was filled with a lot of shrunken heady kind of gear. It seemed that some patients from third world countries got better results when a practicing curandero, using traditional practices, was part of the medical team. That was the basis for the script. However, before I could help Jack, who seemed like a very nice, normal guy, with his show biz career, he was killed in a drug deal gone bad. The script was eventually optioned by a studio by died in development hell.